It is a cold day in Washington. A crowd is gathering on the National Mall for the swearing-in of the 47th president of the United States. At noon on 20 January 2025, Donald Trump places his hand on a Bible, takes the oath of office and delivers an inaugural address with a simple theme: retribution.
This is the nightmare scenario for millions of Americans – and one that they are increasingly being forced to take seriously. Opinion polls show Trump running away with the Republican presidential nomination and narrowly leading Democrat Joe Biden in a hypothetical match-up. Political pundits can offer plenty of caveats but almost all agree that the race for the White House next year will be very close.
The fact that there is a more than remote chance of the twice impeached, quadruply indicted former US president returning to the Oval Office is ringing alarm bells. "I think it would be the end of our country as we know it," Hillary Clinton, who lost to Trump in 2016, said on the ABC talkshow The View this week. "And I don't say that lightly."
The former secretary of state noted that history shows how leaders can get legitimately elected and then terminate elections, the opposition and a free press. "Hitler was duly elected," Clinton added. "All of a sudden somebody with those tendencies, dictatorial, authoritarian tendencies, would be like, 'OK we're gonna shut this down, we're gonna throw these people in jail.' And they didn't usually telegraph that. Trump is telling us what he intends to do."
Trump, notorious for eschewing the politician's dog whistle in favour of a megaphone, has been characteristically transparent about his intentions in a second term. He set the tone in March when, addressing the Conservative Political Action Conference, he framed the 2024 election as "the final battle" for America and told supporters: "I am your retribution."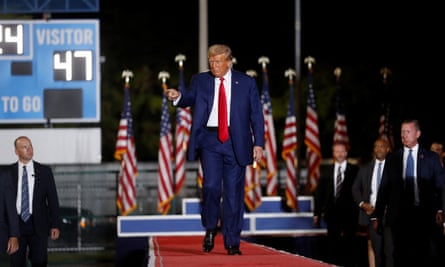 Trump has promised to pardon January 6 insurrectionists in a second term. The Axios website has reported on his plan to dismantle the "deep state" by purging potentially thousands of civil servants and appointing ideological loyalists. A recent New York Times newspaper article told how his team wants to fill the White House and government agencies with aggressive rightwing lawyers who would not challenge the expansion of presidential power.
And the Washington Post reported that Trump is discussing how to use the justice department to investigate or prosecute perceived enemies including his former chief of staff John Kelly, former attorney general William Barr and former joint chiefs of staff chairman Gen Mark Milley. The paper added that he is also considering invoking the Insurrection Act on his first day in office, which would allow him to use the military domestically to crush protests and dissent.
Allan Lichtman, a history professor at American University in Washington, said: "It would be a disaster for America. He's already made it very clear that his second term is going to be a revenge term. He's going to use the power of government to persecute and prosecute…


Read More: 'A revenge term': what would another four years of Trump look like? | Donald