Estimated read time: 3-4
minutes
FARMINGTON — After years of anticipation, Lagoon Amusement Park's newest ride, Primordial, opened to park guests on Friday.
The ambitious project has been more than eight years in the making. Park officials highlighted the roller coaster's custom design and locally sourced materials during a press event prior to the first public ride.
"We have named it Primordial, which means from the beginning of time," said Julie Freed, director of special events at Lagoon. "In the primordial setting, the storyline that you will follow as you journey through this ride is … unlike anything you've ever seen — 100% original."
The fantasy-themed ride is described as a 3D interactive roller coaster that contains a mix of traditional drops and arcade-like sequences projected on the interior of the ride.
Riders are given a pair of 3D glasses before getting on and use a blaster mounted to each seat to fire away at a horde of animated spiders, sorcerers and other fantastical creatures for a chance to earn a spot on the leaderboard.
The cars, which seat eight riders in each, travel up to 40 miles per hour and can swivel in any direction. The ride begins outside, before tunneling into a giant mountain filled with mist, where riders fight enemies through dungeons, outside castles and atop snow-capped peaks all rendered via panoramic screens.
More than 5,000 square feet of screens adorn the inside of the ride, Freed said.
Lagoon unveiled its newest ride to media prior to opening to the public Friday afternoon. Primordial is described as a "3-D interactive roller coaster," with over 5000 Sq feet of projection screens for gameplay. pic.twitter.com/lhx2HubDWR

— Bridger Beal-Cvetko (@BealBridger) September 16, 2023
Primordial is different from other Lagoon rides in that it has multiple paths that are randomly chosen, making it possible to ride multiple times without repeating the same experience.
That was the high point for Korvin, 13, who spoke with KSL.com after having already ridden Primordial twice.
"I liked that a lot. It was really cool," he said. "I didn't expect it to end in two different ways, because I went on it twice and it was different both times."
It's too soon for him to call it his new favorite ride, but he said it was easily in his "top five."
Evoleht, 6, who is Korvin's sister, responded with an emphatic "yes" when asked if she had fun, and said she enjoyed both the drops and the gameplay. She liked it so much she said she doesn't plan on recommending it to any friends in order to "keep it a secret" in hopes of reducing wait times the next time she visits Lagoon.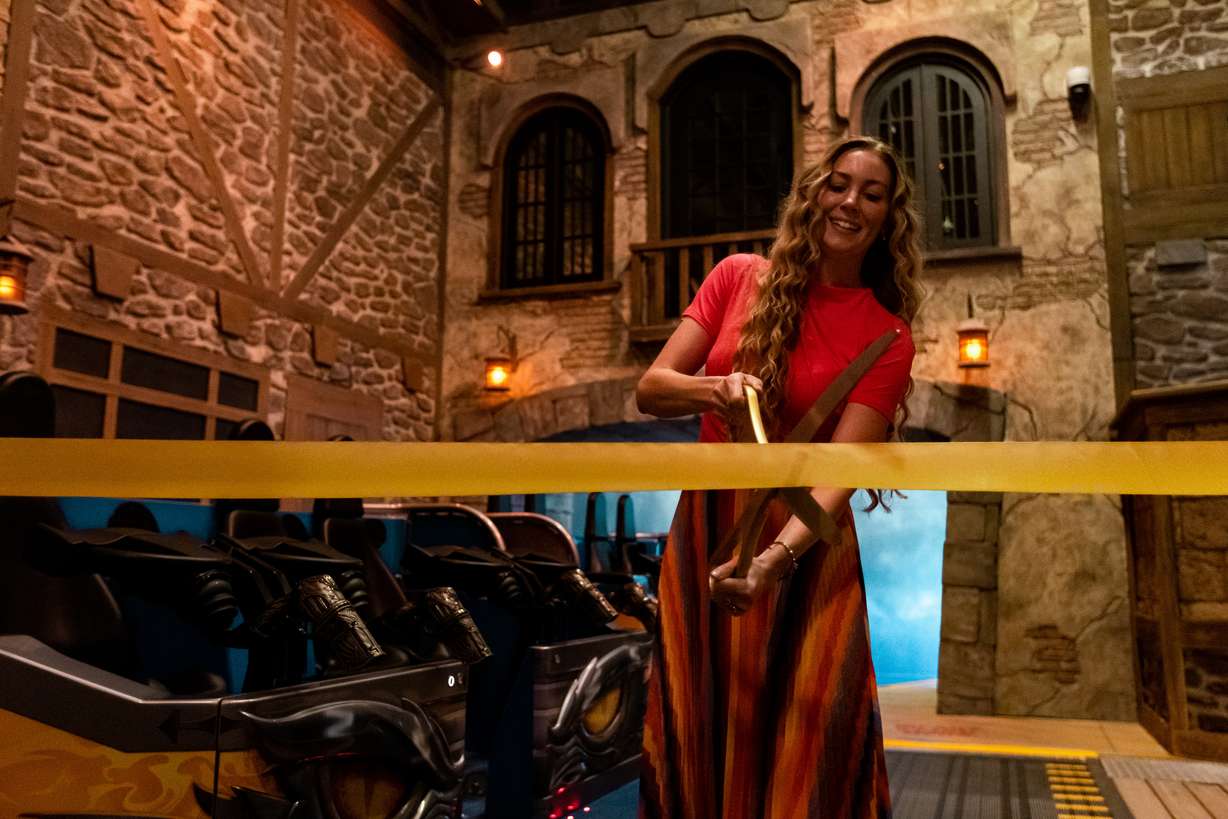 The 70,000-square foot mountain that houses Primordial can already be seen from Interstate 15, and Freed said the park is "proud of how unique this project is."
"Not only did we set out to build an interactive ride with 3-D elements … we designed a mountain to house it, for the…


Read More: Lagoon's newest roller coaster, Primordial, is finally here